Jia Lu is one of America's foremost realist figure painters. Born in China to a family of artists, she has worked in the US, Canada and Japan as a professional artist and designer since 1983. Jia Lu's style is about beauty, spirit and wisdom. She describes her career as a process of self-discovery, a search for self-knowledge and a celebration of self- confidence.
Visit my page on DeviantART

DeviantART is an online community of artists and art lovers with 36 million visitors annually. It's not a fine art site, but it's filled with enthusiasts, students and professionals in all areas of traditional and digital arts. You can see my page here.
Jia Lu Documentary on CCTV4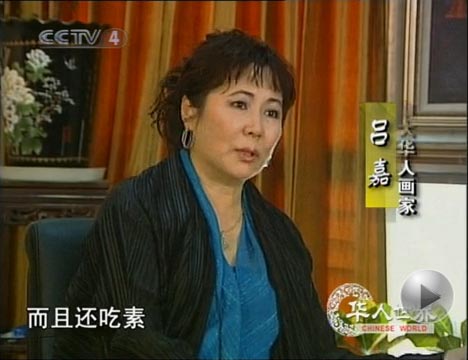 On Jan 23 and 24, China Central Television 4 broadcast a two-part documentary on Jia Lu to a worldwide audience. The weekly television series "Chinese World" features Chinese leaders in business, politics and the arts around the world, their lives and work. The website and video are in Mandarin, but we'll post an English subtitled version when we get our hands on a version we can download and edit.
Jia Lu Documentary Part One
Jia Lu Documentary Part Two
New Jia Lu Book Now Available!
We have just received our copies of the new Jia Lu art book, Illuminated: Figurative Art by Jia Lu, featuring 106 new paintings completed between 2003 and 2008. Most of these paintings have appeared on this website or at YouTube, but now you can view them in all their high-resolution glory. This new book is prefaced with an essay by the artist. Peek Inside!
Our 2002 art book is also back in print, in a revised second edition, titled Transcendent: Figurative Art by Jia Lu. The hardcover books are printed in full color on high-quality art paper and contain many details of Jia Lu's highly realistic paintings, directly scanned from the originals. Peek Inside!
Copies signed by the artist will be available excusively at Jia Lu's dealers and galleries, or from us here at our new Jia Lu Online Store. Buy Now!
Jia Lu on YouTube
Jia has several videos up on YouTube, showcasing work completed between 1995 and 2007. We will be posting short interviews with the artist from time to time, so come and visit or better yet, subscribe!
Upcoming Events
| | | |
| --- | --- | --- |
| Apr 22-25, 2010 | Beijing | CIGE, China Intl Trade Centre |
| Apr 29- May 2, 2010 | Beijing | Art Beijing, Agr. Exhibition Centre |
Recent Work
Recently Posted on YouTube